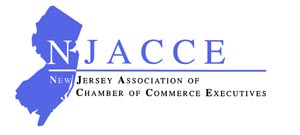 Membership in the New Jersey Association of Chamber of Commerce Executives is an investment. It's your door to networking with other chamber executives in New Jersey.
Who are we?
NJACCE is the official networking organization for chamber of commerce executives in New Jersey.
NJACCE provides aid and support to the management teams of chambers of commerce throughout the state.
NJACCE consists of chamber executives and associates that work together to enhance their professional development and promote the chamber profession.
Why Join NJACCES?
Management Conferences
Spring and fall conferences are held for chamber executives and their staff. Programs provide topical discussions, informative workshops and nuts & bolts sessions on chamber management. Speakers include leaders from the chamber field and business and government that address a wide range of topics. As a member, you receive discounts to attend events.
Scholarships
NJACCE scholarships are awarded to chamber executives and staff who attend the U.S. Chamber-sponsored Institute for Organization Management, American Chamber of Commerce Executives (ACCE) conferences and other chamber educational programs. Over the years, the NJACCE scholarship program has helped many New Jersey chamber executives attend programs they may not have otherwise been able to afford. Access to the scholarship program is one of the major benefits of being a NJACCE member.
NJACCE Leadership
Click here for a list of the NJACCE leadership and board of directors.
---
Register for NJACCE
Click here to download the membership registration form.
Contact Information
Scott Goldstein at (609) 989-7888 or This email address is being protected from spambots. You need JavaScript enabled to view it.