An essay by Ryleigh Geibel
5th grader from North Hanover Township Schools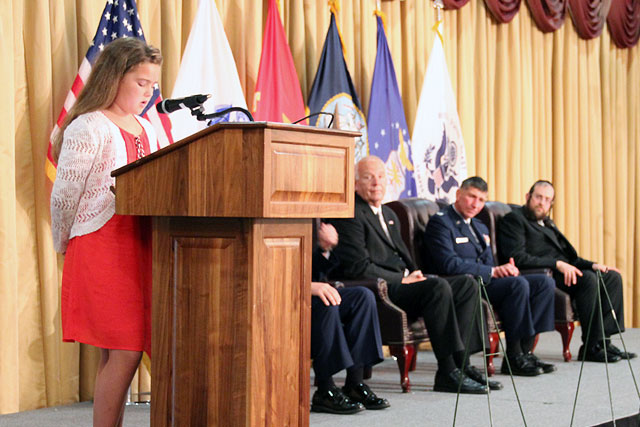 Today, a mother, a father, a son, a daughter hug their loved ones before they deploy. That's the cost of freedom.
Today, a child weeps for her father or mother who can't attend her special occasions or can't give her a kiss good night. That's the cost of freedom.
Today, a family gathers for the holidays while a seat remains unfilled. The empty seat reminds them of the void. That's the cost of freedom.
Today, a family is glued to the television praying that their loved one is safe. That's the cost of freedom.
Today, uniformed military soldiers carry a flag covered casket and pass the the flag to family members as they say goodbye. That's the cost of freedom.
The average person reaps the benefits of freedom each and every day without ever thinking about the sacrifices being made in thousands of homes each day. How do we honor these sacrifices? How do we make sure that the military know that their sacrifices are not going unnoticed? We honor them every opportunity we get by embracing their families in our communities, being grateful for the time that they work towards keeping our freedom, and also thanking soldiers every chance we get.
To those who wear the uniform each day, we thank you for the freedom we have to dream big and live freely. Because of all you give, there are many opportunities we can chase in this great land. This country was built on the backs of men and women like you, and we will continue to hold that near and dear to our hearts. There is no place like America, Land of the Free and Home of the Brave.
There is no place better to live than America because our heroes are courageous, brave, and they are patriotic. We are able to rest easy and live our lives the way we choose because of these brave patriots. Our country has endless possibilities, and our military families and soldiers of all branches are what makes that possible.
Today, we thank you for your service.
Today, we honor you for sacrifices you make.
Today, we believe we are the best country because of you.
Today, the citizens of America know we are free to live out our dreams.
Today, on Memorial Day especially, we remember and thank our military for paying the cost for our freedom.
Thank you.