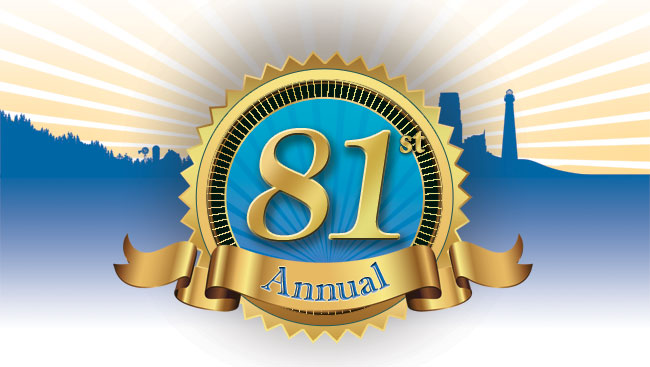 The 81st Annual Walk to Washington & Congressional Dinner
New Jersey's Premier Business Event
---
Marriott Wardman Park Hotel, Washington, D.C.
March 1-2, 2018
For complete and up-to-date information about this year's Walk to Washington including itinerary, schedules, FAQs, and important contacts,visit chamberwalk.com on your computer, tablet or smartphone.
#chambertrain
---
For 80 years, the Walk to Washington has been a must-attend business event because of who attends and what happens.
Corporate executives, mid-size business owners, entrepreneurs, state government and legislative leaders take a chartered Amtrak train to Washington, D.C., to network with each other and to discuss New Jersey's economic situation with our Congressional Delegation.
A time honored tradition in extreme networking. --The Star Ledger
Last year we hosted hundreds of business executives and decision makers, Governor Christie and key members of his leadership team, members of our Congressional Delegation, 40 members of the state Legislature, and over 20 news media outlets.
All of the traditional features of our Walk to Washington remain intact:
Our chartered Amtrak train leaves for Washington, D.C., on Thursday, March 1, 2018.

Our Grand Reception at the Marriott Wardman Park begins at 5 p.m. that evening.

Our dinner honoring New Jersey's Congressional Delegation follows at 7 p.m.
HOTEL INFORMATION

All rooms at the Marriott Wardman Park are sold out. To view a list of other nearby hotels, click here.
Note: The list of hotels is the result of a Google search near the Marriott Wardman Park. Listed hotels are not affiliated with the NJ Chamber or Walk to Washington event and offer no special rates to event attendees.
Hailed as the state's premier business event since 1937
For 80 years, Chamber members have boarded a special Amtrak charter train and traveled to the nation's Capital to discuss with the state's top political leadership how to make New Jersey a better place to do business. Join us for unprecedented opportunities for conversation, visibility and camaraderie.
Why walk the walk?
To mingle with the state's movers and shakers and make connections that will help your business grow and succeed. Ride the rails and meet face-to-face with as many potential clients as possible.
What is the Walk to Washington?
The tradition began in 1937 when several of the state's top business executives took a train to Washington to have dinner with New Jersey's congressional delegation - and the rest is history. Soon the event's popularity made it necessary to charter a private train to the nation's capital. And because everyone on the train walks the aisles, discussing issues and opportunities the event became known as the Walk to Washington. The adventure begins when the Chamber's chartered Amtrak train departs Newark and our other scheduled stops - Metropark, New Brunswick, Trenton, Philadelphia and Wilmington - for the ride to Washington.
What is the Congressional Dinner?
It's your best opportunity of the year to meet people, make connections, and build your business. The trip hits a crescendo when the train reaches the nation's capital and guests gather at the Marriott Wardman Park for a cocktail reception, the Congressional Dinner and a dessert buffet extravaganza that allows the networking to continue into the night.
Need more reasons to attend?
You can participate in the many related events provided by leading New Jersey businesses and organizations. Post-dinner hospitality suites and morning breakfasts are all part of the tradition. Our chartered Amtrak train leaves Union Station in Washington late Friday morning and gets you home in time for dinner.
Want to see who has participated on previous trips?
Photos from the 2017 Walk to Washington
Photos from the 2016 Walk to Washington
Photos from the 2015 Walk to Washington
Photos from the 2014 Walk to Washington
---
Train Schedule
New Jersey to Washington, D.C.
Thursday, March 1, 2018
---
| | |
| --- | --- |
| Departs | |
| Newark | 11:35 a.m. |
| Metropark | 12:01 p.m. |
| New Brunswick | 12:14 |
| Trenton | 12:45 |
| Philadelphia | 1:27 |
| Wilmington | 1:55 |
| | |
| Arrives | |
| Washington | 3:20 p.m. |
Washington, D.C. to New Jersey
Friday, March 2, 2018
---
| | |
| --- | --- |
| Departs | |
| Washington | 11:45 a.m. |
| | |
| Arrives | |
| Wilmington | 1:22 p.m. |
| Philadelphia | 1:45 |
| Trenton | 2:16 |
| New Brunswick | 2:44 |
| Metropark | 2:59 |
| Newark | 3:20 |
SPONSORS
Premier Sponsor

Dinner





Train & Reception




Event









Media






Friends of the Walk